Food & Beverage Control Systems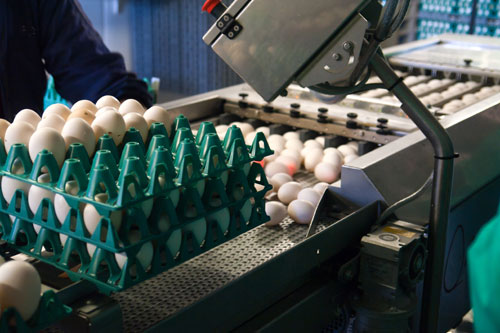 J R Controls provides control systems for food and beverage producing customers. With extensive experience in this industrial space, we understand the unique needs of food and beverage customers. We apply that understanding to our documentation, design, and commissioning of your control system.
These systems typically include conveyors that transport cartons from filling or packing machines to accumulation conveyors where cartons are sealed or shrink wrapped.
The cartons proceed to an accumulation and merge area where the various sources of cartons are sent to a high speed palletizer in pallet load quantities.
The palletizer utilizes a barcode scanner which monitors the arrival of cartons into the machine and will detect any issues.
The palletizer creates a full pallet load and will discharge it to the full pallet conveyors. The barcode information is utilized to create and print a pallet label on the pallet load as it discharges from the palletizer.
This label will be scanned by a fork truck operator as he retrieves the load from the pallet conveyors for storage.
A J R Controls, PC application can provide the customers WMS system with information related to the pallet load product identity and quantity.
These control systems typically have multiple system monitor screens (HMI) for system monitoring and trouble shooting.